Why Every Dental Practice Should Have Patient Billing Services!
Because your time is precious and a resource that you can't get more of!
Patient billing is an art form — it saunters the edge of being challenging and demanding while being hands-down one of the most vital parts of the business side of your dental practice. And, if you're a small practice beginning to gain legs and grow, or even a bustling established dental practice, outsourcing medical billing services may be an opportunity to create more time in your day and get back to better serving the patients you love!   
At EZ Dental Billing, we guide dental practices around the nation in streamlining their business management to improve their ROI while providing better patient care. Take a moment with us, and learn more about why your dental practice should have patient billing services. 
Let's Dialogue About Patient Billing Services!
It's important to address what some consider the underbelly of medical billing services. It usually comes down to outsourcing. Outsourcing tends to get negative attention because people tend to get underpaid and it can create job scarcity. 
The great news is, in the medical industry, and specifically patient billing services, it's a happy partnership. You get the best of both worlds — the software the helps organize and track patient billing and support from us! 
When you partner with a company such as EZ Dental Billing, it makes your business more profitable and gives you more time to spend with your patients. 
Why else are patient billing services important to your dental practice?
Patient care remains the foundation. 
First and foremost, the reason you spent a lot of time and money to become a dental professional was to improve people's lives — which means building rapport and providing quality dental services. This is not accomplished when you're putting in 40 more hours a week (on top of your already hectic clinic schedule) tackling the medical billing portion of your practice. 
This is not good for anyone. 
You're burning the wick at both ends, and undoubtedly, you and your dental practice will suffer.   
Your business relies on you making connections and building rapport with your clients — communication is how you provide great dental care — so you need to focus here. 
Patient care is your number one priority, so make it that!
EZ Dental Billing is your ally in patient care and a resource for keeping patient care the number one priority!
Billing errors are mitigated.
Let's face it — you're in the business of improving smiles and not medical billing! Medical billing professionals have the training and experience to submit claims that are accurate and ones that are submitted in a timely matter. 
How frustrating is it to spend a good amount of time working through billing, thinking you're crossing your t's and dotting your i's, only to get claims rejected? And to rub salt in the wound, you have to spend additional time resubmitting it hoping that this time around it will be accepted. 
At EZ Dental Billing, we've created a system where we collect all insurance claims that are owned to your practice within 20 days of submission that matches codes to prevent fewer rejected claims and improve the turnaround time.  
Improved practice management. 
You'll likely nod in agreement with us when we state that practice management is a full-time job and many dental clinics aren't able to hire a full-time employee to cover this, which is what makes our patient billing services so valuable to your practice.  
Your productivity and the productivity of your staff will improve and become more efficient. Our system increases the number of claims accepted and reduces the number of headaches of resubmitting claims, leaving your office with more time to squeeze in emergency patients or see more volume of patients in a day.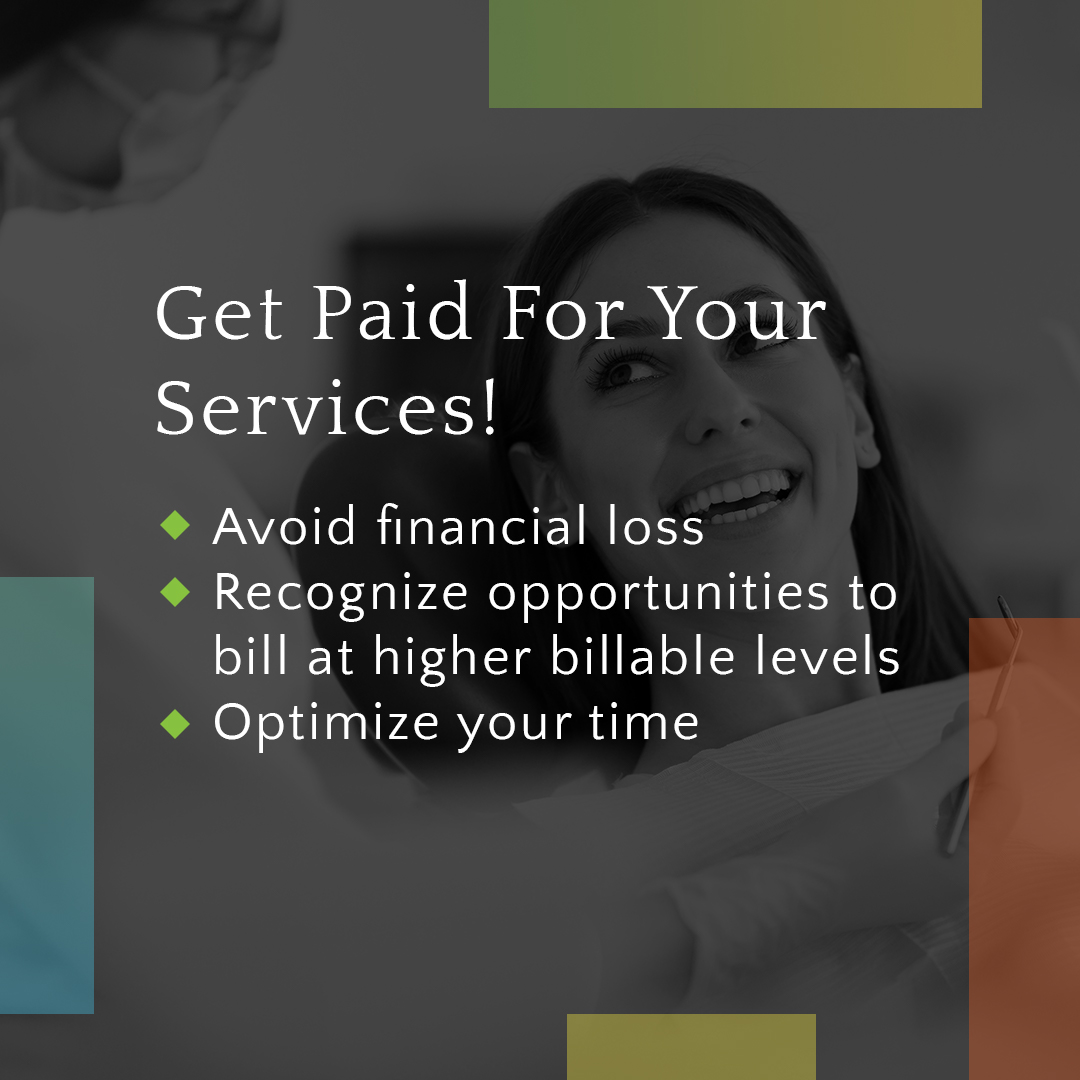 Billing a fair rate.
Manual filing, especially when you're not familiar with billing codes, leaves many opportunities for financial loss because you're not billing each service at the highest billable level. Instead, take advantage of patient billing services that recognize these opportunities that you would miss — essentially you're optimizing your time and financials!    
Patient billing doesn't have to be a time burglar in your dental practice! Instead of spending your already limited time on patient billing, get back to what you do best — creating healthy smiles! 
When you get help from a system and outside support from billing experts you make patient care a priority, billing errors are fewer, you improve your practice management, and you can ensure to bill a fair rate for your services. 
For more information about the patient billing services we provide, connect with us today!  
At EZ Dental Billing we provide a host of services beyond just patient billing. View all of the services we offer including claim submissions, payment postings, denied claims appeal, and many more on our services page.